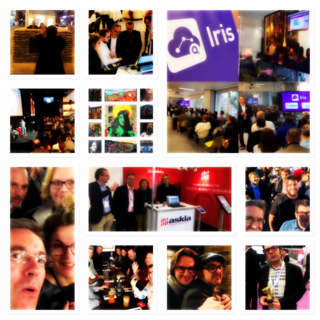 It's been an exciting and extremely busy year for Askia in 2018. A few photos were taken along the way and some of them are too good not to share. Here are some of our favourites…
This year we have been busy creating and launching the Iris dashboard design platform. So that meant a whole host of chances to team up (and dress up) with our friends at E-Tabs to present the solution to the industry.
Jerome kept the E-Tabs theme going this year, by winning their PinBall challenge at the Insight Show. He was quite pleased with that (possibly even a little smug).
It's important for the development teams to meet up face to face and so earlier this year Paul and Mamadou from our Paris office travelled over to Sri Lanka to meet up with Iresha & Prabath, who are busy working on AskiaPortal and our Self-Serve solution.
ESOMAR in Berlin was an important event for us, as usual
It was great that Michael & Jordan could come over from the Los Angeles office and spend a couple of weeks visiting their European colleagues in Paris & London.
GDPR was a hot topic in 2018 and we worked closely with Kim and the team at ESOMAR on this.  Here is a photo from one of the kick-off meetings in Paris.
2018 was a very special year for Jatin, as he got married to the wonderful Jahnavee
For the Le Printemps des études event  in Paris, Askia chose to go with the theme of bricks – it was the 50th anniversary of the Student Revolution in May 1968,  when students famously threw bricks against the police
 and Jeje saved some of the new art work (the light of wisdom) from the show and installed it in the Paris office. Very Led Zep IV.
As many of you know the London office is in Shoreditch, an area of London famous for its street art. The art changes constantly and is of a very high standard. We think the one top left is a Banksy.
And we can't forget that France won the World Cup in 2018, so there was quite a bit of tension and delirium at Askia HQ . . .
The Askia team always enjoys a visit to Munich in October – to the Research & Results Show
And finally, the year wouldn't be complete without a picture of the Askia founders – Patrick and Jerome. This one is particularly special and too good for us to keep it to ourselves.