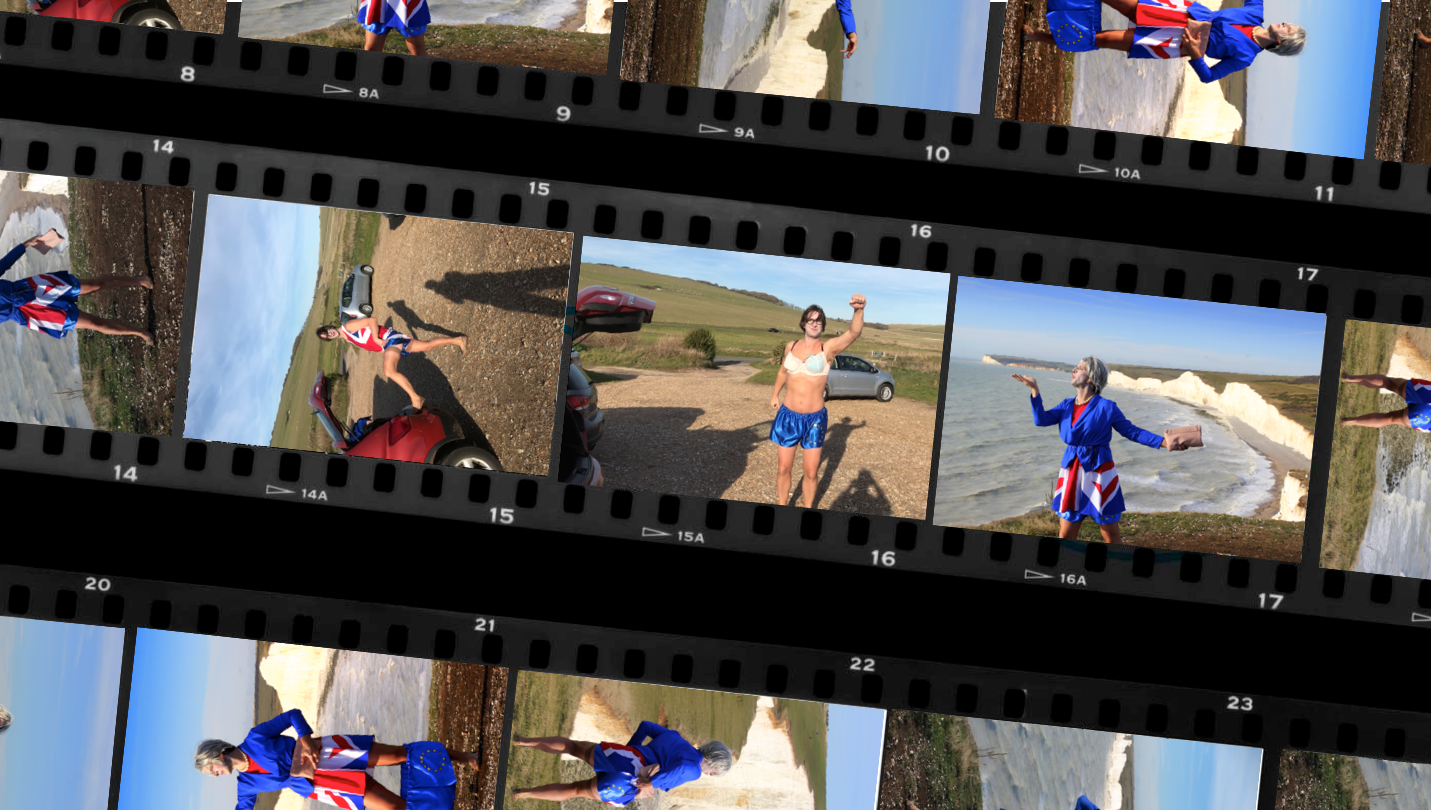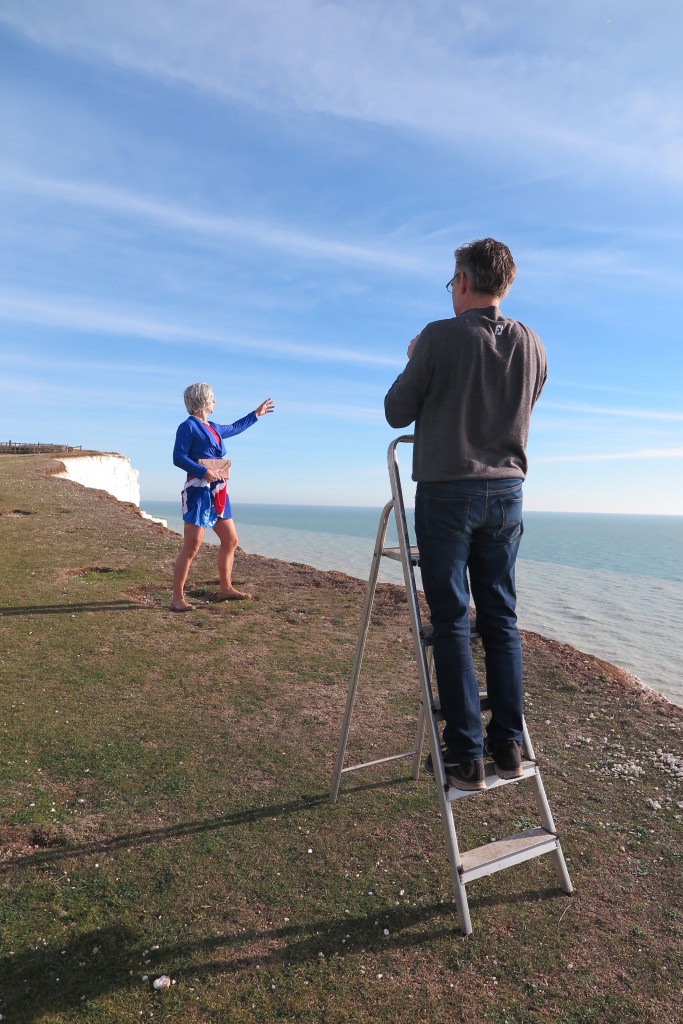 "Dad, what did you do at work today?". "Well today I climbed a ladder on the very edge of a massive cliff above the sea and took pictures of a man dressed as Theresa May." Why did you do that"? A very good question. A very good question indeed!
In one of the more remarkable days of a 30 year career in market research, it was time for the Askia greetings card photo shoot. The card has been a tradition 10 years in the making. For those not in the know, Askia sends out a fun (or controversial or interesting or downright odd) greetings card to clients & friends in January each year. The Askia founders Jérôme and Patrick, take it in turns to be the "model" and the custom is that the theme is chosen by the one not in the picture – that way we get something a little more daring.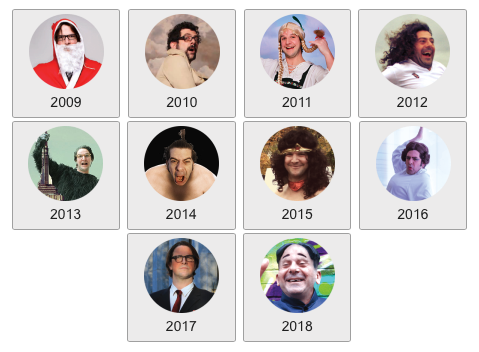 For a reminder of some of the previous cards take a look a blog post from 2016.
Strong & Stable leadership in the national interest

Theresa May, 9th May 2017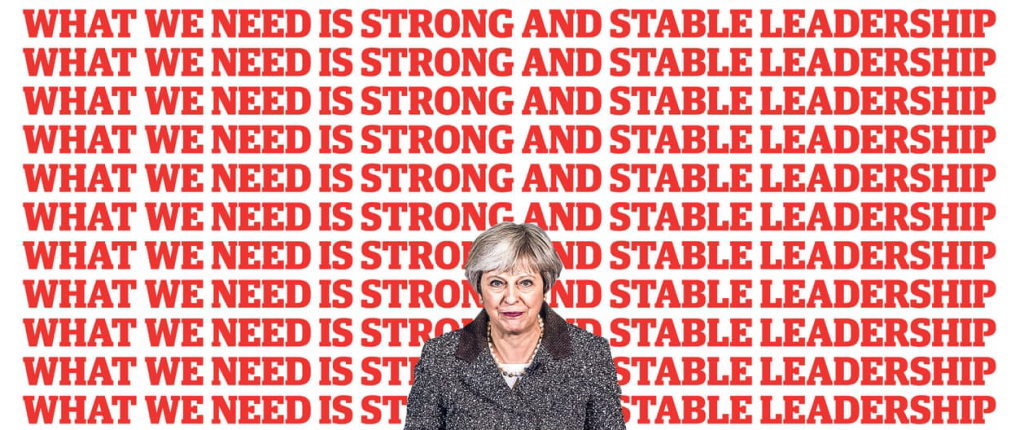 The subject for the card usually starts being discussed in the summer and the final decision is made when we gather each September for the ESOMAR Congress. We try and pick up on what the big topics of the year have been or are still going to be. In 2018 it seemed clear that Britain's impending exit from the European Union was the hot topic. But what was the angle? A couple of Theresa May meme's had got huge coverage in the UK. The first was her election mantra of "Strong & Stable", which was widely picked up and generally ridiculed.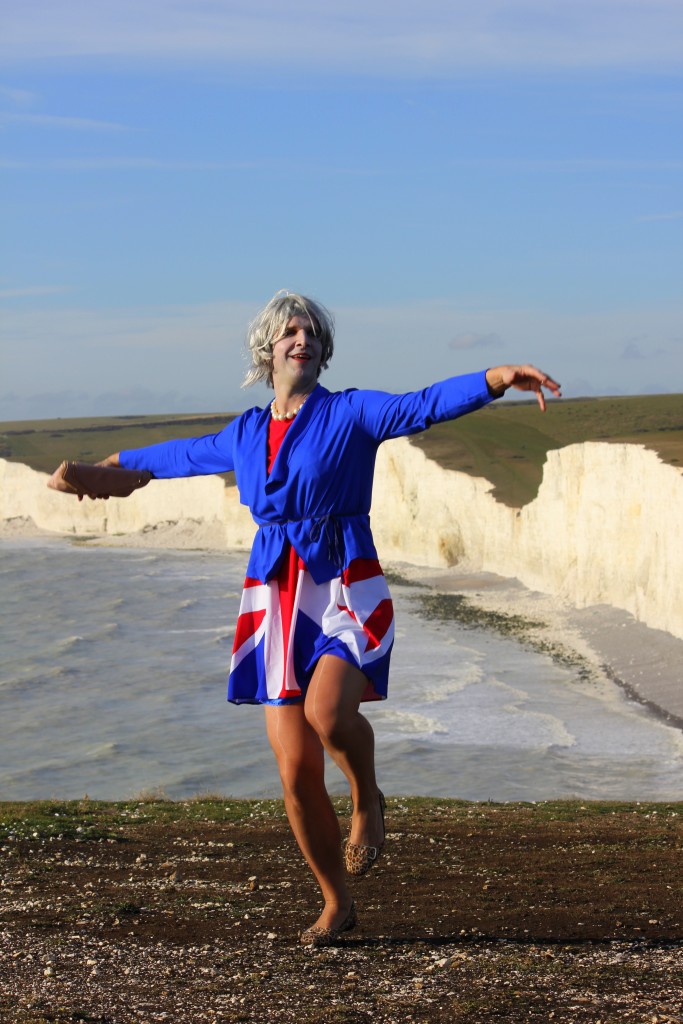 Next was the dancing. If that's what it was. An extraordinary combination of simultaneous over and under confidence while strutting across to the lectern to throw some of the most memorably bad shapes of all time. Patrick frankly looks far too elegant really to be a good impersonation. . .
If you need a reminder.
So we had our theme – now for the location. The white cliffs on England's south-east cost are iconic – the first thing you see if you ever travel to the UK from France by ferry – a real signifier of coming home for anyone from England. We picked Birling Gap, midway between the Seven Sisters and Beachy Head. It's a remarkable stretch of coastline and on a clear day you can see Continental Europe.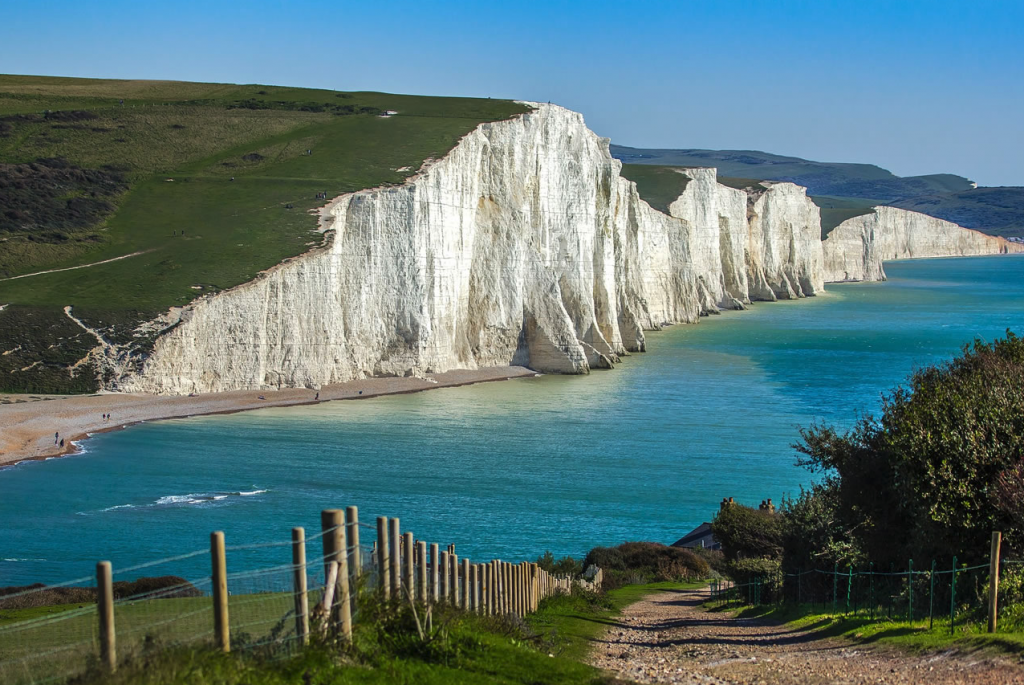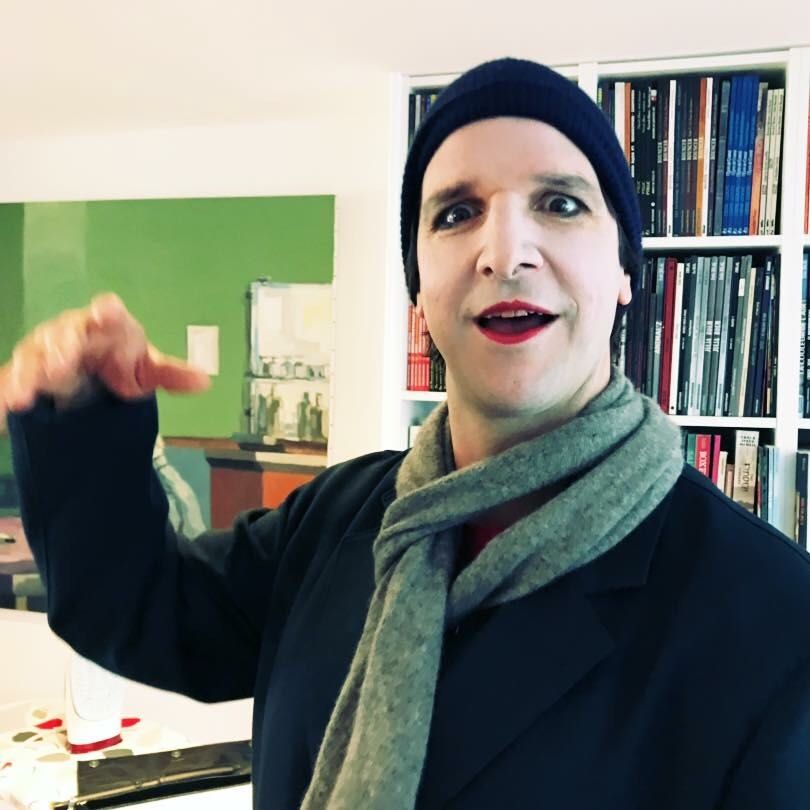 Jérôme and Patrick take the photoshoot very seriously. In the weeks leading up to it, dresses & wigs are bought, shoes & neckless' borrowed – no detail is spared. Patrick bought false nails (though his finger nails were too wide for them to work/stick). The make-up was applied by Jérôme's partner Sarah in London. Then he travelled all the way down to Brighton on the train fully made-up. Once parked up at Birling Gap, Patrick changed into the full Theresa.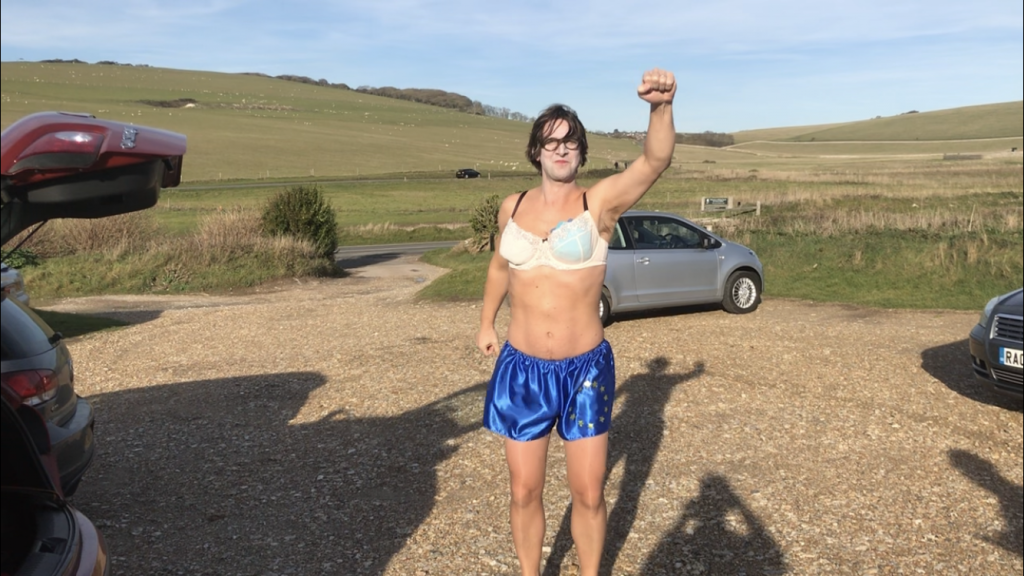 We walked up towards Beachy Head and Jérôme and Patrick squabbled over which was the best location (Patrick still gloats that the main picture is from "his" location). Jérôme brought his new drone along and although none of the shots taken from that were used, it's nice to have some video footage of the day from that remarkable landscape and on one of the best November days I can remember – we were blessed. We picked up a few comments from passers by – "what are you going to do with that ladder?" – we answered with a mischievous grin & a wink. And then there was one man who I can only assume was a "leave" voter, who snarled at us and muttered "that's not funny". We would rather disagree…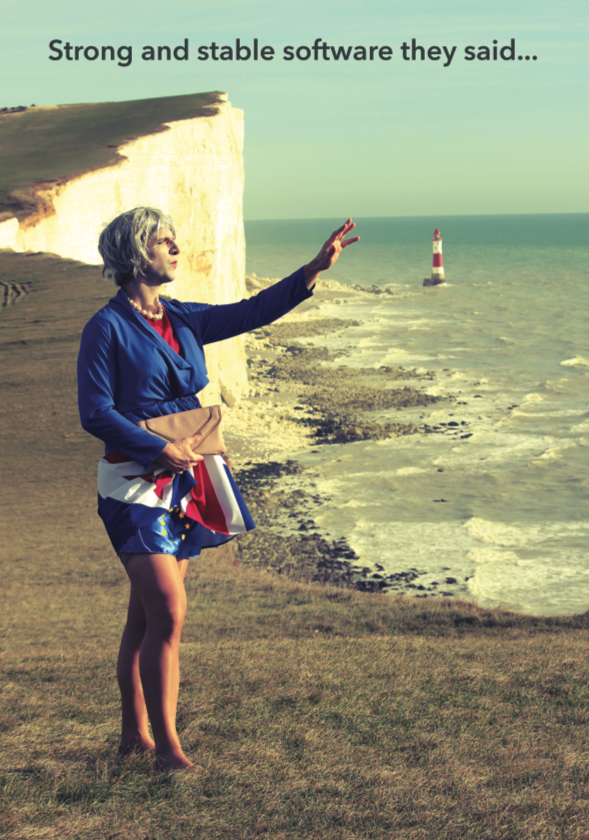 The main picture we went with – a nervous, but defiant wave to our good friends across the water.
Looking forward to next year's card already. . .