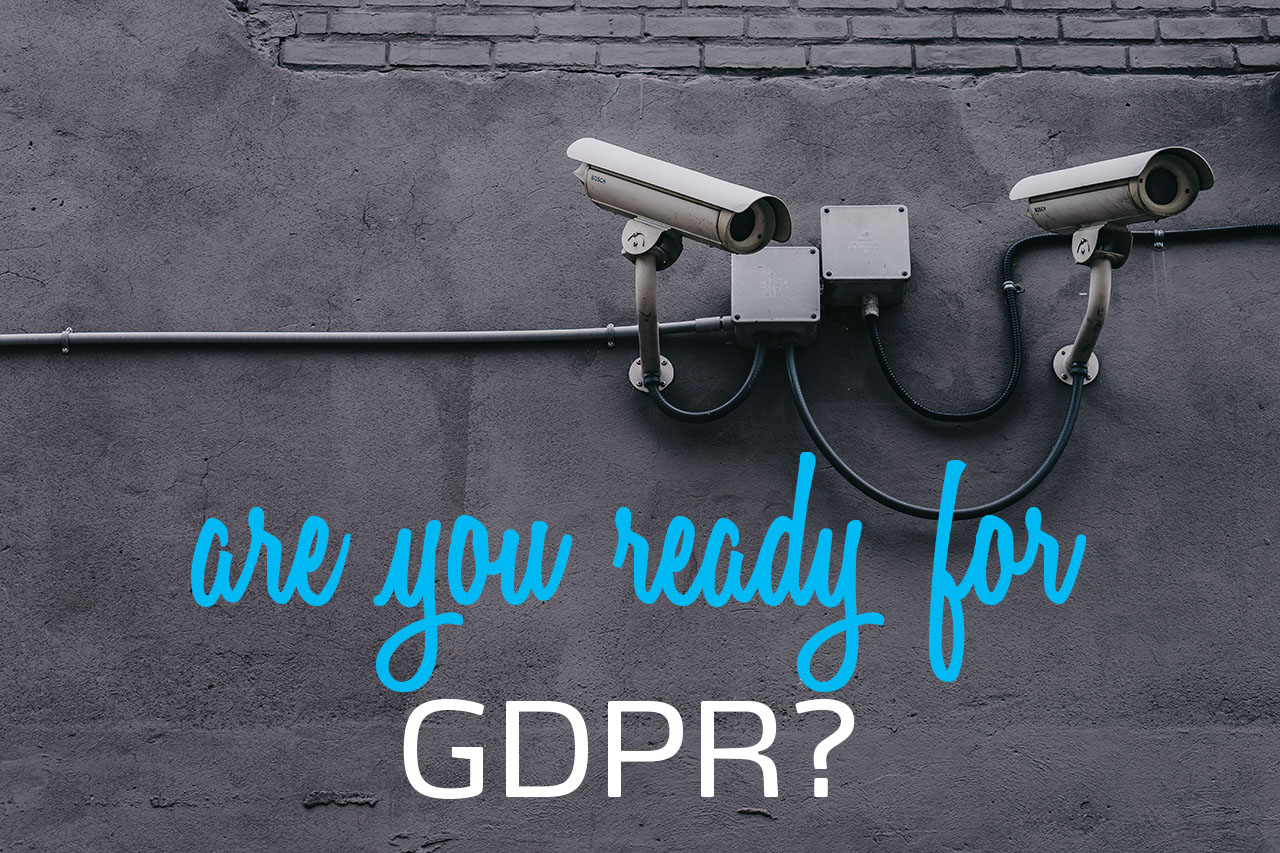 What is General Data Protection Regulation (GDPR)?
GDPR is a regulation that requires businesses to protect the personal data and privacy of European citizens for transactions that occur within European member states.
The EU General Data Protection Regulation (GDPR) replaces the Data Protection Directive 95/46/EC and is designed to harmonize data privacy laws across Europe, to protect and empower all EU citizens data privacy and to reshape the way organizations across the region approach data privacy.
How can I prepare for GDPR?
You will find lots of advice on the web to help you prepare for the General Data Protection Regulation (GDPR) which will apply from 25 May 2018. We have decided to share these 12 steps by the  U.K. Information Commissioner's Office because we think it is the clearest explanatory list, to provide an overview.
     Awareness
You should make sure that decision makers and key people in your organisation are aware that the law is changing to the GDPR. They need to appreciate the impact this is likely to have.
     Information you hold
You should document what personal data you hold, where it came from and who you share it with. You may need to organise an information audit.
     Communicating privacy information
You should review your current privacy notices and put a plan in place for making any necessary changes in time for GDPR implementation.
     Individuals' rights
You should check your procedures to ensure they cover all the rights individuals have, including how you would delete personal data or provide data electronically and in a commonly used format.
     Subject access requests
You should update your procedures and plan how you will handle requests within the new timescales and provide any additional information.
     Lawful basis for processing personal data
You should identify the lawful basis for your processing activity in the GDPR, document it and update your privacy notice to explain it.
     Consent
You should review how you seek, record and manage consent and whether you need to make any changes. Refresh existing consents now if they don't meet the GDPR standard.
     Children
You should start thinking now about whether you need to put systems in place to verify individuals' ages and to obtain parental or guardian consent for any data processing activity.
     Data Breaches
You should make sure you have the right procedures in place to detect, report and investigate a personal data breach.
 Data Protection by Design and Data Protection Impact Assessments
You should familiarise yourself now with the ICO's code of practice on Privacy Impact Assessments as well as the latest guidance from the Article 29 Working Party, and work out how and when to implement them in your organisation.
 Data Protection Officers
You should designate someone to take responsibility for data protection compliance and assess where this role will sit within your organisation's structure and governance arrangements. You should consider whether you are required to formally designate a Data Protection Officer.
 International
If your organisation operates in more than one EU member state (i.e. you carry out cross-border processing), you should determine your lead data protection supervisory authority. Article 29 Working Party guidelines will help you do this.
How Askia can support me to prepare for GDPR
From a researcher's standpoint, the first areas to be impacted, though not the only ones, would be data collection and data processing.
How can I collect, if I can't store any individual data with personal data?
A while ago at Askia we started to implement easy-to-use features that will prove to be very helpful to reach your GDPR compliant Holy Grail.
Restricted access to data
Restricted access to data
We have improved the restriction features and added default templates. Every individual who is granted access to the CCA gets his/her access rights via an elaborated set of restrictions. Access to personal data will only be available if predefined in those restrictions.
Anonymization
During Market research data collection personal information will need to remain accessible. However once fieldwork has been completed, we are no longer allowed to store any personal data. They need to be anonymized.
Askia provides an automatic anonymization feature that will modify personally identifiable information (PII), so they won't be accessible to be displayed in any kind of data visualisation, nor exportable as part of a data set.
The anonymization process is associated to the above restrictions features that ensure that only data administrators, with appropriate accreditation, will have access to respondent data (until they are permanently deleted).
By default, all personal data will remain unreadable except by the main fieldwork administrator. Askia strongly advises that restrictions schemes are validated by the client's Data Protection Officer so that they match the GDPR compliance expectations.
Encryption
We strongly advise that you also apply data encryption to all anonymized data. Askia has added anonymization & encryption features across the board that can be activated on all existing data as soon as you have updated to V5.4.9 of Askiafield. Encryption is available on both survey and list data.
Privacy
If a respondent requests not to be contacted anymore, whatever the data collection mode, his/her personal data,  such as phone number or email address must be added into a Do Not Contact list. Before any contact list usage, you need to ensure that you are not using any contact matched with your Do Not Contact list. The Do Not Contact lists are available for each data collection mode or a mix of them.
Deletion
And for those respondents who want to be forgotten you need to be able to demonstrate that you have deleted their personal information. Askia has introduced "Clean-up", a feature that will generate automatic reports for deleted tasks (surveys, lists, statistics). Existing features supporting the right to be forgotten include deletion reports. Askia advises to run the tool regularly while keeping track of the surveys that need removal from the platform. Once identified, the tool will erase all data related to this survey, whether or not it holds personal data.
Sources
https://www.esomar.org/uploads/public/government-affairs/position-papers/EFAMRO-ESOMAR_GDPR-Guidance-Note_Legal-Choice.pdf
https://www.csoonline.com/article/3202771/data-protection/general-data-protection-regulation-gdpr-requirements-deadlines-and-facts.htm
https://ico.org.uk/media/1624219/preparing-for-the-gdpr-12-steps.pdf