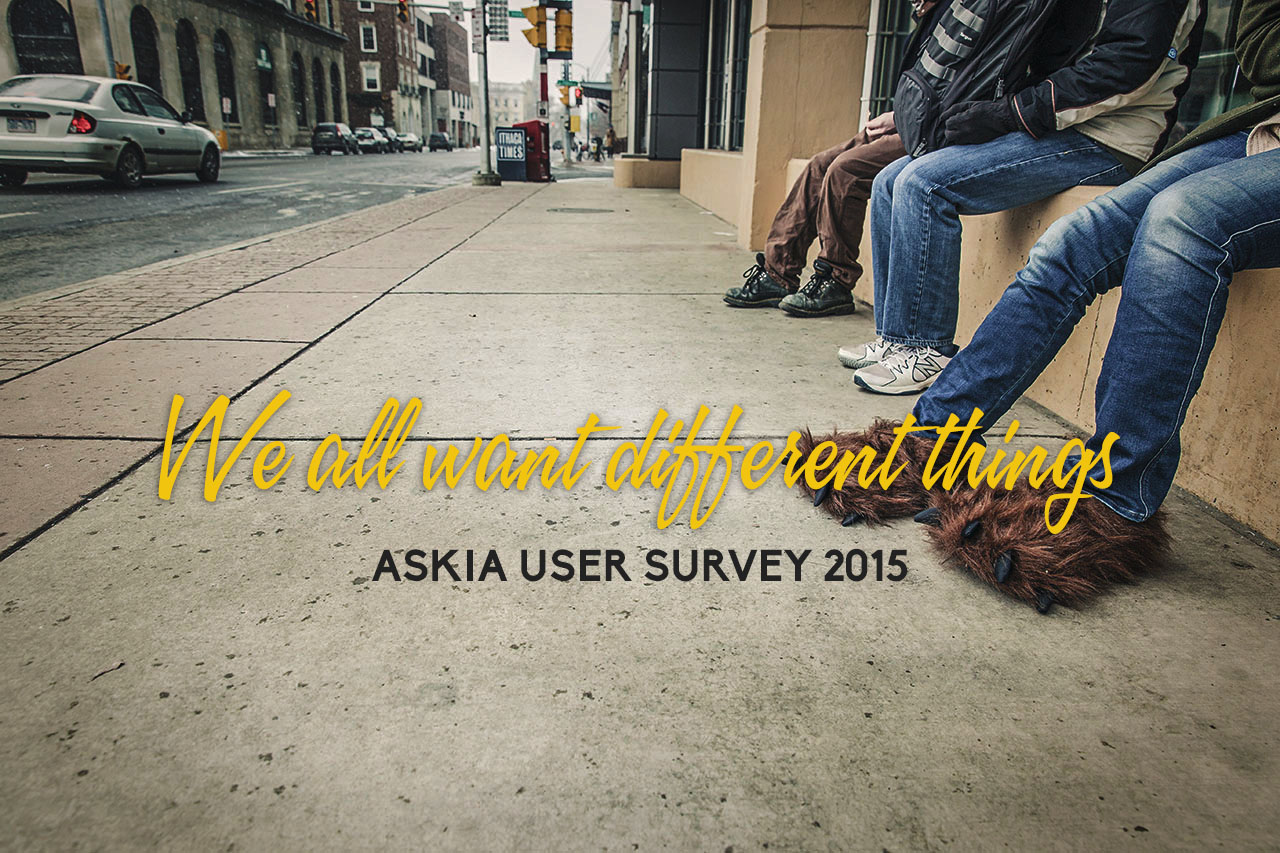 What did you like?
Most of you like the easy to use & learn our applications. In the same idea, you think our application are intuitive and user-friendly.
You also mentioned our scripting engine (Askiascript 2.0), the flexibility and the fact our platform is open to extend the software as well as the quality of the support.
Our personal favorite was "The close working relationship and the willingness to listen to our concerns".
What did you not like?
You would like us to simplify the management/modification of web screens to require less HTML/CSS/JavaScript knowledge and deliver enhanced report/monitoring tools.
You also seem to be keen on improving the speed and time to process especially for large data sets and simplify the interface, having it web based and allowing multi user access to our suite of apps.
Finally, you would like more communication/information on development/changes and some of you also mentioned to have the documentation translated in French.
Our personal favorite was "The sometimes geeky choices for user interface and element naming, … ".
What should we work on?
We asked you to put yourself in our shoes and help prioritise our development plans, this is what you said.
Askiadesign – most of you would like new questions types and additional routing/scripting keywords.
You'd also like us to work on a better templating system, to be able to define short captions for responses, to apply routing actions to several questions and to have the possibility to create functions in askiascript. Some of you also mentioned to simplify the creation of semi open responses.
Askiavoice: The recordings management and CATI /AskiaClient interface appear to be the area where you would like us to put the focus.
Some others good ideas / functionalities came as spell check, CTA as service and improvement of the quota definition.
Askiaweb: Most people would focus on improving the spam, soft bounce detection followed by a "print my answers" feature.
You were keen for us also to improve mixed-mode data collection.
Askiaface: when it comes to face to face data collection, your priorities are: give the possibility to continue the survey online and the contacts list management.
In terms of other ideas, we received a lot of good ideas including:  improve the storage of multimedia files taken during the survey, improve the management of quotas and be able to hide the sidebar.
Askiaanalysis: Improve the speed of processing is the area on top of your choice followed by the table layout facilities.
In addition, people would like to see:
Full compatibility between analyse and vista portfolios, calculated variables, …
New calculated variable – Multiple by script (one script)
Search function for portfolios
What else would you like to see?
People also asked for: better communication / information on modifications/changes, better/more documentation, user guide, knowledge base articles and some of you for a French version of our documentation.
Support
In terms of overall satisfaction:
28% were very satisfied by the support.
71% were either very satisfied or satisfied.
3% were dissatisfied and none were "Very dissatisfied".
When it comes to improving Support, you'd like us to be better at explaining the solutions so that you can learn from it and improve the speed to reply or produce a solution.